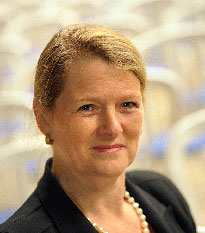 about christine
Christine Tacon CBE is the Chair of Assured Food Standards who operate the Red Tractor Assurance scheme. The former Groceries Code Adjudicator took up the role in 2021 with decades of experience as a leader and advocate for the British food and farming industry and with an extensive background in change management, regulation and the food chain.
Christine started her professional career as an engineer and then moved into marketing working at organisations including Mars, Vodafone and Anchor (now Fonterra). For more than 10 years, she ran the Co-operative Group's farming business- the largest of its kind in the UK and more recently was a director of the AF Group, a farm purchasing co-operative, for 9 years. In 2004, she was awarded a CBE for services to agriculture.
She currently serves as the Chair of the BBC Rural Affairs Committee and MDS – a management training scheme for the food and fresh produce industry with nearly 100 trainees on the 2-year programme. She is also a Trustee of the Farmers Club Charitable Trust which makes awards to agricultural educators and farmers seeking to expand their knowledge through a Snapshot Study or through leadership training with the Windsor Leadership Trust.
Until October 2020, Ms Tacon was the Groceries Code Adjudicator, a government regulator responsible for overseeing the implementation of the Groceries Supply Code of Practice by large grocery retailers, in their dealings with direct suppliers.
LATEST UPDATES