Number of suppliers experiencing GSCOP-related issues continues to fall
The Grocer – 13th May 2020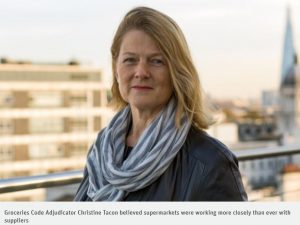 Supermarket behaviour in dealing with suppliers is at an all-time high, despite the pressures of coronavirus, according to an official survey by Groceries Code Adjudicator Christine Tacon.
A YouGov survey of almost 1,500 direct suppliers, on behalf of the GCA, found more than a third (36%) said they had experienced a code-related issue with one of the 13 retailers covered by GSCOP in the past 12 months – down from 41% in 2019.
The period includes the first three weeks of the outbreak and the findings come despite calls from the BRC for the code to be suspended to allow companies to delist products at short notice.
The percentage of suppliers claiming to have been affected by a code-related issue has fallen for the seventh consecutive year and has come down from a high of 79% when the survey was first carried out in 2014.
The findings echo the results of a survey carried out for The Grocer earlier this month that showed 31% of suppliers said they had experienced retailers behaving in a way contrary to the code since the onset of the current crisis.
Tacon, who agreed to stay on for a further six months, having originally been due to step down in June, said she believed supermarkets were working more closely than ever with suppliers.
"The survey period included three weeks when the sector was under huge pressure, but the data shows no adverse impact on compliance with the code as retailers and suppliers raced to keep supermarket shelves filled," she said.
"Indeed, it corroborates my own discussions with the retailers who have told me not one supplier has raised an issue with their code compliance officers or asked for an issue to be escalated.
"This is a testament to the stronger and more effective communication between retailers and suppliers which the GCA has fostered over the past seven years and which has proved so valuable during this emergency.
"It also demonstrates that the code has provided the flexibility retailers need to maintain a vital and efficient supply chain that is getting groceries to the consumer."
Yesterday Morrisons CEO David Potts, who was one of those to call for the lifting of elements of GSCOP during the crisis, said: "I've had no information of a code issue from any of our suppliers since this crisis began."
However, Ged Futter, founder of The Retail Mind, who carried out the recent survey for The Grocer, said: "The GCA report talks of improvements across every code-related issue. Alternatively, you could say after 10 years of GSCOP over a third of suppliers are still experiencing code-related issues."
Ian Quinn