Co-op shoots up rankings in Tacon's final GSCOP survey
The Grocer – 21st May 2020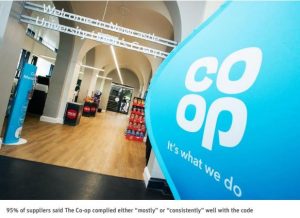 The Co-op has been praised for a "massive improvement" in its behaviour towards suppliers, as it rose from third from bottom to second from top in adjudicator Christine Tacon's final YouGov supplier survey, published this week.
The retailer, which was last year found guilty of breaching GSCOP after an investigation by Tacon into the way it was delisting suppliers and unilaterally changing supplier agreements, was ranked only behind Aldi, which topped the table for the seventh year in a row.
For the Co-op, 95% of suppliers said it complied either "mostly" or "consistently" well with the code. Aldi once again topped the table, for the seventh year in a row, with a score of 97%.
The report also named Iceland as the worst performer for the fourth year in a row, with its compliance score down by one point to 81% and almost a fifth of suppliers saying it rarely or never complied with the code.
There was also a fall of two places for M&S, which got a score of 86%, to be third bottom above B&M Stores in the table. The Grocer understands suppliers reported friction as the retailer sought to leverage the power of its online delivery partnership with Ocado.
The survey was greeted by Tacon as a boost to her plan to imbed self-regulation across all 13 retailers covered by the code before she steps down at the end of this year. The Co-op was ordered to introduce major changes to its governance, systems and processes after an investigation into the retailer in 2018.
"This shows that the work they have done on self-governance has driven right through to suppliers and it's great to see the Co-op getting the recognition they deserve," Tacon said.
Co-op Food CEO Jo Whitfield added: "These strong supplier relationships have helped us to respond to the challenges of the coronavirus crisis, taking account of supplier issues to meet increased demand to serve communities and feed the nation.
"We've overhauled our approach to embedding the code into our business, including a review of processes, the introduction of new controls and monitoring tools and revised training, which has led to a cultural and behavioural shift which puts the potential impact on suppliers at the heart of our decision-making. It's been a huge team effort and I couldn't be prouder of the work colleagues have done."
Julie Ashfield, MD of buying at Aldi, said that treating suppliers fairly was one of the key pillars of its success over the years, but she also praised the work of the Adjudicator.
"These latest results show the positive impact that the GCA has had on the sector over the past seven years," said Ashfield. "The coronavirus crisis has reminded us all of the need for partnership across the supply chain and how interdependent retailers and their suppliers are."
Despite criticism by supermarket bosses that GSCOP was undermining the ability of retailers to feed the nation Tacon said "the work I've done in the past seven years has helped retailers cope with the current crisis."
She added: "Aldi should also be particularly congratulated for having held the top spot every year for seven consecutive years, but the survey shows the considerable efforts to improve made by all retailers."
Iceland refused to comment on the survey
Ian Quinn