As suppliers face Sainsbury's-Asda squeeze, who can help them?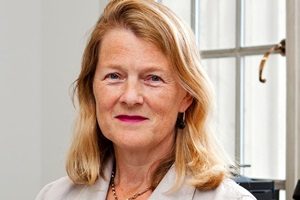 Adjudicator Christine Tacon said today that size did not matter when it came to the prospect of her protecting suppliers from a combined Sainsbury's and Asda behemoth.
"Size makes no difference to my ability to regulate them," Tacon told members of the Environment, Food and Rural Affairs Committee when asked by chairman Neil Parish what she planned to do to stop the companies "stitching up" their supplier base.
In fact, the Adjudicator even suggested to MPs that the small matter of the combined giant taking up more than 30% of the market might actually work in her favour.
"With my penalty powers I have the ability to fine in a way that's going to hurt.

"One per cent is a lot of money for them," said Tacon. "In fact I would argue that the larger a retailer the more they are likely to embed IT and processing systems towards being Code compliant."
Tacon told MPs she hoped the result of the merger, if it goes through, might be to see Asda move from the bottom of the Adjudicator's league table of behaviour to sit alongside Sainsbury's close to the top. But the MPs seemed to fail to grasp the grim reality as far as suppliers are concerned.
That is that the Adjudicator is pretty much a spectator when it comes to stopping Sainsbury's and Asda from what another member of the committee described as, in none-too-parliamentary terms, "screwing suppliers into the ground".
Although at times she must have felt like she was speaking to a brick wall – and you could argue it would have just about the same impact – Tacon made it clear that price negotiations have always been outside her remit.
Mike Coupe has already suggested Asda and Sainsbury's will be able to reduce prices by 10% across many everyday products, by making full use of their ability to squeeze their top 100 suppliers – 85% of which are the same for both companies. So is there anything to save those suppliers from Old Man Depression?
Worryingly, if you are one of them, the only sunshine on the horizon would appear to be the possible intervention of the CMA.
But when it launches its investigation into the proposed takeover, to what extent will its thinking be based on this issue of potential unfair treatment of suppliers, rather than the traditional grounds of reduced competition for consumers?
Most experts seem to think that, as with previous takeovers, the issue of store crossover and a potential reduction in consumer choice will be at the forefront of the CMA's probe. This could result in Sainsbury's and Asda being forced to sell off stores. (Though who will buy them, given the way the race for bricks and mortar space among supermarkets has ground to a halt, is up for question.)
But will the probe give equal priority to the potential threat of a serious lessening of competition, due to the impact on suppliers?
Will the impact of a Sainsbury's-Asda "duopoly" on suppliers' margins, their ability to put money into innovation and more fundamentally the reduction in the number of their routes to market, be a deciding factor?
As with a lot of the CMA's rationale, there is very little in black and white to suggest how the authority may look beyond pins on the map to decide whether the merger gets the go-ahead.
But for those suppliers wondering how they will face up to not just one, but two grocery giants with 30% of the market, don't expect the Groceries Code Adjudicator to be able to ride to your rescue. Whether MPs get it or not, she is powerless to intervene.
Ian Quinn